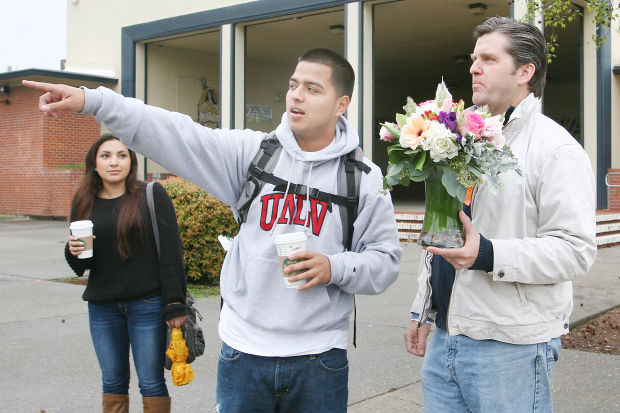 Most people don't mind being interrupted by a man delivering flowers, and Gina De Luca, music office secretary at Napa High School, was no exception.
On Wednesday morning, John Prittie, owner of Beau Fleurs Flower Company in Napa, surprised De Luca in a classroom near the school's theater with a colorful spring blossom bouquet.
Prittie calls his deliveries "random acts of flowers," a takeoff on the "random acts of kindness" movement. The florist created the campaign in part to celebrate the 20th anniversary of the family-owned business, he said.
The idea is to recognize someone who deserves a free bouquet of flowers, Prittie explained. That could mean someone who helps others — perhaps someone behind the scenes who might not always get the recognition he or she deserves. Or someone who faces adversity or assists those who do.
Anyone can receive a random act of flowers, Prittie said. Locals can drop by the shop to submit a name. Once a week, Prittie will pull a name from the nominations and deliver a free arrangement.
"I thought it would be fun if we could launch something involving the community that would be fun to do and spread good cheer," Prittie said.
Read More:Â http://napavalleyregister.com/news/local/florist-makes-surprise-visits-delivering-random-acts-of-flowers/article_6925103a-9292-11e2-a2de-0019bb2963f4.html
Leave a Reply