By Laura McCallister, KCTV5 Multimedia Producer
By Alan Shope, KCTV5 Multimedia Journalist
Original story HERE.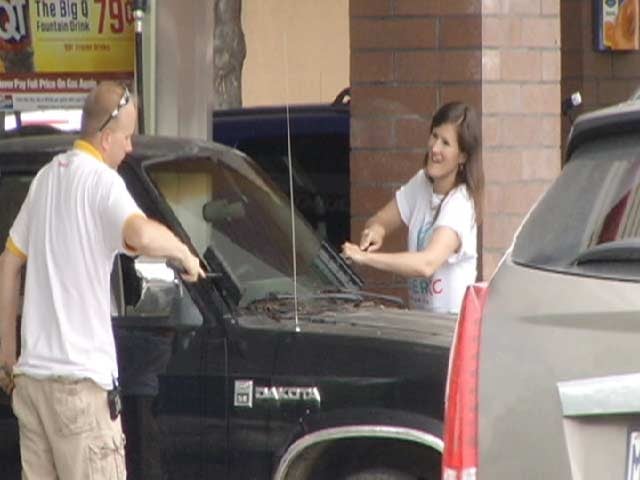 KANSAS CITY, MO (KCTV) – Despite what seems like high amounts of violence in today's day and age there is a group in Kansas City trying to spread good feelings Tuesday with random acts of kindness all over the city.
"If we went to the restaurant and bused tables then we could go down to the police station," Jami Byer said.
Tuesday, the Greater Kansas City Chamber of Commerce's Centurions Leadership Program held their random acts of kindness day.
Eighty people, split up among 20 groups, spent their entire day trying to help complete strangers and have them pass it forward.
"If you make a difference in one person and they spread it, it spreads that love and that joy and makes everybody feel good," said Bill Sosna with MRI Global.
It's an idea to try to make Kansas City a kinder place with free gift cards, food, even cash, and it's a feeling that quickly spreads.
"We believe that everyone does kindness in their everyday life and yet collectively we don't necessarily do that as a community," said Eva Schulte with Communities Creating Opportunity.
And residents on the receiving end felt the joy that came along with the free gifts.
"They just came and made me feel a little bit better. That's awesome, it's very sweet of them to do that," Janelle Stone said.
But Tuesday was about more than just about giving stuff away, it was about helping neighbors. From a waitress busing a table, to helping a guy at a gas station clean his windows, volunteers said the day was about spreading the word kindness.
"Sometimes people get caught up in the financial act and not in just the generosity of your heart," Byer said.
Participants even passed out lemonade to those working in the heat.
"If everybody makes it a habit and does something good every single day, it's a better place," said Callie Merritt-Jones with Sprint.
Sometimes the generosity was as simple as a friendly, caring conversation.
"We're Kansas Citians and together we're saying, 'kindness matters,'" Schulte said.
Along with all the kind gestures Tuesday, the Centurions Leadership Program gave away more than $2,000 in cash citywide.
The program started in Kansas City in 1976. It's the first of its kind in the country. Click here to learn more.
Leave a Reply