Archive for the 'RAK Ideas and Articles' Category
I stumbled across this article today on ChicagoNow.com…definitely worth a viewing!
Yes, our government is shutdown, Healthcare.gov is a mess, the economy is being held hostage, and debt ceiling deadline is fast approaching. Things are headed in a sad direction, but still there people out there who do these little random acts of kindness. These fellow humans being the best of us.

But you know what? Life is short. We are here, we struggle against all odds in a universe that is completely ambivalent to our existence. It has little concern for our fate, whether that fate is amazingly satisfying or sad.

We tumble through this world in a vague attempt to do something from time to time that brings happiness.

But sometimes we forget in all the chaos that we are here together. We struggle together. We are not a single candle lit in the darkness. We are many candles- millions of candles- billions of candles. We exist in this life alongside other human beings and there are times that we should see nothing in another human being but the need to be helped.

I found this video during one of forays into the internet and it brought a smile to my face. It gave me a short moment of introspection. It is only a passing moment, but embrace it.

Watch as what the best of humanity do when the average of humanity fails to.

Also, the music is nice too and can be downloaded here and the check out the Facebook page for Carlos Sanz Music here. They have more music like that one!
(ABCNews)– A Pennsylvania's family pumpkin spice latte act of kindness in honor of their daughter's death has turned into a viral chain of good deeds and raising awareness for epilepsy.
On Sept. 3, Alyssa O'Neill, 18, texted her mom to ask if they could go to Starbucks the next morning before school so that she could try her first pumpkin spice latte. Her mom "agreed wholeheartedly."
"Unfortunately, my daughter passed away early [the next] morning and we never got a chance to do that for her," Alyssa's dad, Jason O'Neill, told ABCNews.com. Alyssa died of an epileptic seizure.
"After the viewing and the funeral, we spent a few days being extremely sad and hiding from everybody, but we realized that wasn't really helping," he said.
So the family, which includes Alyssa's two younger sisters and brother, headed to an Erie, Penn., Starbucks to fulfill her last wish.
"She really wanted a pumpkin spice latte," her dad remembered thinking. "I know we can't get her one, but we'll each get one and then we'll pay it forward and let some other people enjoy what Alyssa didn't get a chance to have. And maybe they'll spread the kindness and do a nice thing in honor of our daughter."
Read on for the rest of the story…
H/T: WHAS11.com
A New York homeless man is about to launch his own app after learning how to code through the generosity of a software developer who passed him every day during his commute.
First announced on Medium last month by software developer Patrick McConlogue, 23, 'Finding The Unjustly Homeless and Teaching Them to Code' came to him after seeing the homeless man, who goes only by Leo, on his way to work every day.
The original proposal was this: Mr McConlogue offered the homeless man two choices – $100 or a free laptop, wireless hotspot, coding books and daily coding lessons.
Read on for the rest of the story…
H/T: Daily Mail
Motorists driving through Wilton Center this morning were surprised with a gift of a long-stemmed yellow rose from police officers. The officers were continuing a 10-year-old tradition of performing random acts of kindness on this day. It is a joint venture of the Wilton Police Department and Wilton Chamber of Commerce.
This tradition began shortly after Sept. 11, 2001 as a way of lifting the spirits of Wilton residents and those passing by. This special day, sponsored by Stewart Flowers & Gifts, happens each year with the hope that this gesture will brighten the day of the recipient and encourage them to "pass it on," a press release from the chamber said.
"This is one of our favorite events of the year, as people are not expecting to receive a beautiful rose on their way to work or while running errands," said chamber President Peg Koellmer. "The surprise and smiles it puts on everyone's face is fun to see, and hopefully will result in many acts of kindness throughout the day.
Read on for the rest of the story…
H/T: Wilton Bulletin
When a visually impaired customer accidentally dropped a $20 bill at a Hopkins, Minn., Dairy Queen, employee Joey Prusak said he was shocked by what happened next.
"The lady behind him just picked it up and put it in her purse," he told Yahoo News. "As if no one saw it."
What Prusak did inspired another customer to write an email to the store manager praising the 19-year-old for his calm and kindness. The email went to Reddit, was picked up by the Daily Mail and quickly turned Prusak into a nominee for the Nice Guy Hall of Fame (if only such a place existed).
Read on for the rest of the story…
H/T: Yahoo News
New Yorkers, perhaps unfairly, have a reputation for being unfriendly.
But one NYC resident decidedly crushed that stereotype at a Subway restaurant in California.
"Had a complete stranger buy me breakfast and give me a dozen cookies to take back to work with me to share among my co-workers," wrote Redditor artlove89 on Tuesday. "All he said was, 'Don't let people tell you that us New Yorkers are all bad.'"
H/T: Huffington Post

A donut shop in Amesbury, Mass., witnessed an incredible string of customers "paying it forward" — and forward, and forward, and forward.
A total of 55 customers came through Heav'nly Donuts' drive-thru on Saturday offering to pay the bill of the person behind them, CBS Boston affiliate WBZ reported.
The chain of generosity began after a stranger paid for Eileen Taylor's drink on Friday. When she went back the next day committed to do the same for someone else, she started a trend.
"After that it was like, oh we're three cars deep, four cars deep, and after about the 15th car I started letting the customers know, 'Hey, we're 17 cars in, you can either keep it going or you can take your coffee and go. Either way it's your choice,'" a Heav'nly Donuts clerk told the station.
Wendy Clement, the shop's manager, told the Christian Post that the chain eventually ended an hour and a half later -– but only because no one else was in line.
"It was fantastic," Clement added. "The generosity was unbelievable."
H/T msnNOW
By Laura McCallister, KCTV5 Multimedia Producer
By Alan Shope, KCTV5 Multimedia Journalist
Original story HERE.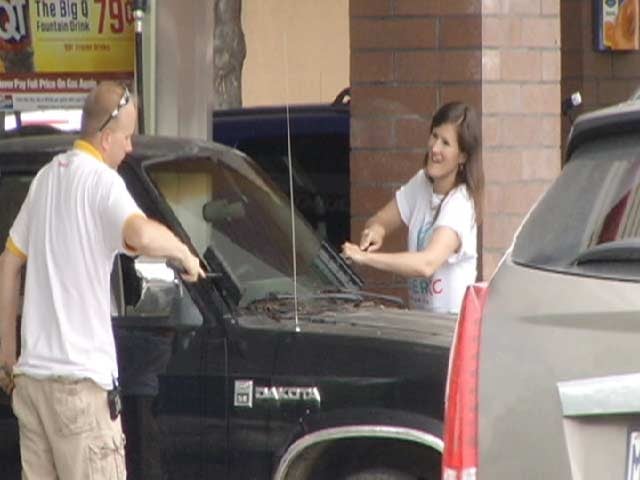 KANSAS CITY, MO (KCTV) – Despite what seems like high amounts of violence in today's day and age there is a group in Kansas City trying to spread good feelings Tuesday with random acts of kindness all over the city.
"If we went to the restaurant and bused tables then we could go down to the police station," Jami Byer said.
Tuesday, the Greater Kansas City Chamber of Commerce's Centurions Leadership Program held their random acts of kindness day.
Eighty people, split up among 20 groups, spent their entire day trying to help complete strangers and have them pass it forward.
"If you make a difference in one person and they spread it, it spreads that love and that joy and makes everybody feel good," said Bill Sosna with MRI Global.
It's an idea to try to make Kansas City a kinder place with free gift cards, food, even cash, and it's a feeling that quickly spreads.
"We believe that everyone does kindness in their everyday life and yet collectively we don't necessarily do that as a community," said Eva Schulte with Communities Creating Opportunity.
And residents on the receiving end felt the joy that came along with the free gifts.
"They just came and made me feel a little bit better. That's awesome, it's very sweet of them to do that," Janelle Stone said.
But Tuesday was about more than just about giving stuff away, it was about helping neighbors. From a waitress busing a table, to helping a guy at a gas station clean his windows, volunteers said the day was about spreading the word kindness.
"Sometimes people get caught up in the financial act and not in just the generosity of your heart," Byer said.
Participants even passed out lemonade to those working in the heat.
"If everybody makes it a habit and does something good every single day, it's a better place," said Callie Merritt-Jones with Sprint.
Sometimes the generosity was as simple as a friendly, caring conversation.
"We're Kansas Citians and together we're saying, 'kindness matters,'" Schulte said.
Along with all the kind gestures Tuesday, the Centurions Leadership Program gave away more than $2,000 in cash citywide.
The program started in Kansas City in 1976. It's the first of its kind in the country. Click here to learn more.
By Priya Advani
Original story HERE.
My daughter and I were on our way back to our apartment when she suddenly slipped on wet concrete in the garage. She would be confined to a wheelchair and crutches for the next several weeks. A week before her fall, I had severely sprained my left shoulder. I wasn't able to get her wheelchair into or out of my car without assistance. For weeks, I had to ask random people to help me. I was incredibly touched by how everyone was so helpful, without any hesitation. There were times when people would offer assistance, without me even asking.
I know how happy I feel when I get the chance to help others, and by the display of kindness that I received, it seemed that others felt the same way. My medical mind began to ponder. I wondered, "What happens to our bodies, physiologically, when helping others through random acts of kindness, and what are the mechanisms that are activated when this happens?" I was on a mission to find my answers.
By Lucy Luginbill — Tri-City Herald
Original story HERE.
Without a doubt, it was contagious. In less than 30 days, the phenomenon had affected countless numbers, traveled from coast to coast — even internationally — and spread smiles ear to ear.
The random acts of kindness had multiplied at an astonishing rate, all because of a 40th birthday invitation from Kristi Black to her Facebook friends.
"It's one thing to do it yourself," says the New Hampshire woman about her choice to celebrate her May milestone by randomly giving presents to others, "but then to get all your friends involved …," her voice trailing.
Because of their busy lives, she was hesitant about including them in her unique month-long birthday celebration. Even so, she decided to give it a try and set up the Facebook Random Acts of Kindness page, complete with a creative invitation to join her in the project. Friends could respond with the "going" reply — and then it was "party on!"
"A group of people right away said they were going to do it," Kristi recalls about her idea to give gifts to strangers during her birthday month. "It started slow, then one of my friends shared with her friend and then another shared," the young woman's words brimming with excitement. "That's when it took off, friends of friends."
Word spread to at least 16 states, stretching north to south, from Maine to Georgia, and east to west, from Florida to Washington and Hawaii. But the random acts of kindness didn't stop on our country's shores. From as far away as Peru to Italy, Brazil to New Zealand and St. Crois, the birthday celebration rocked with kind deeds.
Free lattes surprised unsuspecting drivers in the Starbucks drive-thru; quarters filled gumball machines and overdue parking meters; smiley-face cookies brightened a dreary day for cancer patients.
Read the rest of this entry »